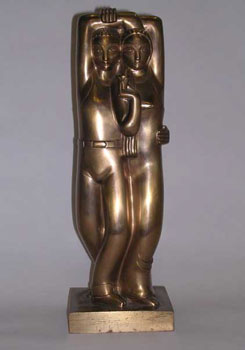 PAST EXHIBITION
Brought to Light: The Storied Collections of the Judah L. Magnes Museum
Brought to Light: The Storied Collections of the Judah L. Magnes Museum celebrates the museum's 40th anniversary and public reopening.
The exhibition is a colorful array of ceremonial objects, documents, textiles, paintings, photographs, and artifacts from Jewish communities in India, North Africa, Europe, Kurdistan, North America and the Middle East. It includes works from artists such as Dorothea Lange, Marc Chagall, Sir Jacob Epstein, and Harold Paris.
The items in the exhibit were personally selected by Seymour Fromer, co-founder and Director Emeritus of the museum, and reflect the museum's efforts to collect objects that represent the cultural history of the Jewish Diaspora. Throughout the 19th, 20th and 21st centuries, repression, genocide and political upheaval have decimated many Jewish communities.
Since its founding in 1962, the Magnes has tried to rescue and preserve artifacts that might otherwise have been lost. The museum has sent out emissaries to document vanishing communities or retrieve sacred religious objects and has purchased entire collections from people who also have sought to preserve a disappearing way of life.
This exhibition tells many tales—of the journey from community, artist or collector to the Magnes, of relationships established, of generosity, dedication, and personal sacrifices that were made to collect and save these treasures of Jewish art, culture, and history.
Taken as a whole, the individual tales become the story of the Magnes itself, demonstrating how the museum's commitment to preserve the treasures of the Jewish experience around the world propelled it into a magnet for such objects.