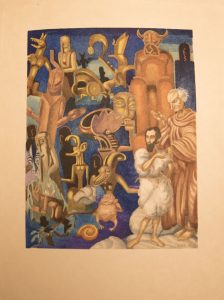 As we unravel the body of work included in the Taube Family Arthur Szyk Collection, we have come across books he beautifully illustrated during the 1920s.
Szyk spent the 1920s and early 1930s in Paris where he was supported financially by the antiques dealer August Decour and by several art collectors. Decour organized three major exhibitions of Szyk's work in his gallery in 1922, 1925 and 1928. After spending several months in the Decour's residency, Szyk moved to the Montparnasse neighborhood with his family. At that time, Montparnasse was considered the center for artistic and intellectual life in Paris. Among the artists living there were Marc Chagall, Pablo Picasso, Amedeo Modigliani, Jacques Lipchitz, Marcel Duchamp, and Max Ernst.
The list of books illustrated by Szyk during this period include the biblical Book of Esther (1925); Gustave Flaubert's La Tentation de Saint Antoine (The Temptation of St. Anthony, 1926), Pierre Benoit's Zionist novel, Le Puits de Jacob (Jacob's Well, 1927), which was set across the Eastern Mediterranean; and Le juif qui rit (The Laughing Jew, 1926-1927), an anthology of "Jewish humor" edited by Curnonsky and Bienstock, and likely titled after Victor Hugo's philosophical novel, L'homme qui rit (The Laughing Jew, 1869).
While The Laughing Jew was illustrated with black and white caricatures, both The Temptation of St. Anthony and Jacob's Well are filled with highly decorative illustrations, which were produced by using the stencil (in French: pochoir) technique. This technique originates in Asia, but is mostly identified with the Art Nouveau and Art Deco movements in Europe. Stencil technique is time intensive as it is produced by a series of layers of color—each layer applied by hand. Szyk's colorful book illustrations were highly celebrated, not only for their intricacy and technique, but also for the materials they were made of. Each book was produced on Japan paper—a valued and expensive material— that cost between $150-$450, amounting to approximately $2,000-$6,000 in current market value, and each book edition was limited to 250 copies.