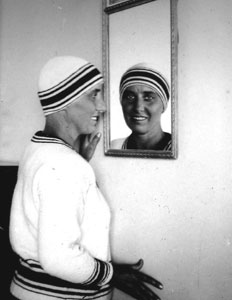 PAST EXHIBITION
Acting Out: Claude Cahun and Marcel Moore
Acting Out presents the little-known chapter in the lives of the famed Surrealist photographer Lucie Schwob (aka Claude Cahun) and her partner, the writer and artist Marcel Moore. In the 1930s, Cahun and Moore participated in a range of anti-fascist activities. In 1937, they left Paris for the Isle of Jersey. When the Island was occupied during WWII, Cahun and Moore were imprisoned for acts of resistance. Their house was commandeered by German troops who looted its contents, dispersing the library and destroying many of the artworks and photographs found on the premises. Despite the fact that what Cahun characterized as "the best of the work" perished, an intriguing photographic and documentary legacy survived at the Jersey Historical Trust (UK).
Born to a prominent Jewish publishing family in Nantes, niece of the symbolist poet Marcel Schwob, Cahun was well connected to the French literary world. Cahun and Moore fell in love when they were still schoolgirls in Nantes; when Cahun's father married Moore's mother, they became stepsisters. Moore studied at the Fine Arts Academy in Nantes and her fashion illustrations appeared regularly in the family newspaper.
From 1920 to 1937 the couple lived and worked in Paris under the pseudonyms Cahun and Moore, subsequently moving to the Isle of Jersey, where they spent World War II. While in Paris, they participated in avant-garde theater (Cahun performed, Moore designed sets and costumes), volunteered at Sylvia Beach's bookstore Shakespeare and Co., hosted cultural and political meetings in their Montparnasse studio, and became active participants in the Surrealist movement.
Acting Out is guest curated by Dr. Tirza True Latimer.
Walter and Elise Haas Fund
Consulat G´n´ral de France, San Francisco
Walter and Elise Haas Fund
Consulat G´n´ral de France, San Francisco