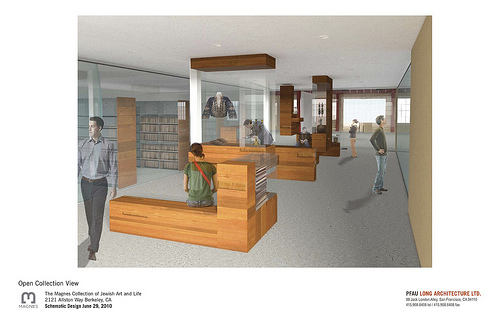 PAST EXHIBITION
Case Study No. 1 | Shaken, Not Stirred
On View:
Jan 22, 2012 - Jun 29, 2012
Location:
Open Collection Viewing, The Magnes Collection of Jewish Art and Life
2121 Allston Way | Berkeley , CA
The Magnes
Gallery Hours:
Wed-Sun 12pm-4pm, Thursday 12pm-7pm
Built by Pacassa Studios, a local woodworking and architecture firm, the display cases at the very center of the new Magnes facility will be used to highlight thematic selections from the permanent collection.
Every year the curators of The Magnes will collaborate with UC Berkeley faculty, graduate students, and visiting scholars in creating Case Studies from the collection, based on innovative research projects.
Case Study No. 1: Shaken, Not Stirred presents art and artifacts re-discovered by staff during the move of The Magnes Collection to its new home.