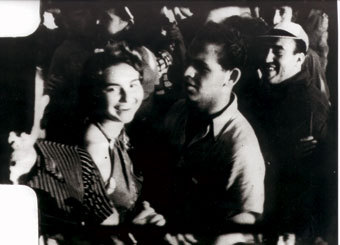 PAST EXHIBITION
The Danube Exodus: The Rippling Currents of the River
In The Danube Exodus, Hungarian artist Péter Forgács and the Labyrinth Project at the University of Southern California's Annenberg Center for Communication present an interactive multimedia installation designed to involved visitors in narratives that incorporate found footage of two historic voyages along the Danube River.

Image: Detail from The Danube Exodus, 1997
The installation includes amateur film footage from Captain Nandor Andrasovits, who ferried Eastern European Jewish refugees along the Danube River from Slovakia to the Black Sea (and eventually Palestine) in 1939. This narrative is paralleled by a "reverse" exodus that took place one year later, when Andrasovits's ship ferried Bessarabian Germans who fled to the Third Reich because of the Soviet annexation of Bessarabia.