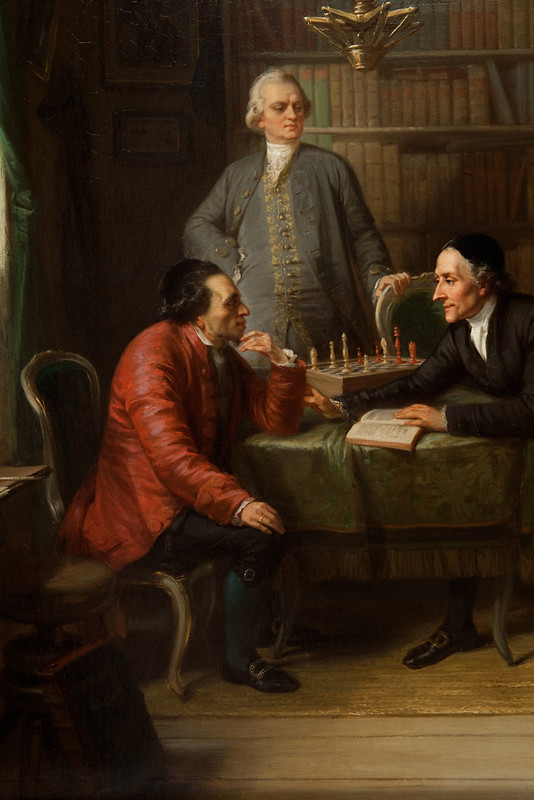 PAST EXHIBITION
From Mendelssohn To Mendelssohn: German Jewish Encounters in Art, Music, and Material Culture
On View:
Jan 26, 2016 - Dec 16, 2016
Location:
The Magnes Collection of Jewish Life and Art
2121 Allston Way | Berkeley , CA
The Magnes
Gallery Hours:
Tuesday-Friday, 11am-4pm
One of the most iconic works of art in The Magnes Collection, returns on display before being loaned internationally on the occasion of the Lutheran Reformation in Wittenberg, Germany (Spring-Summer 2017).
Moritz D. Oppenheim (1800-1882), often celebrated as the first modern Jewish painter, created Lavater and Lessing Visit Moses Mendelssohn in 1856. The painting portrays an imagined mid-18th century meeting among scholars and intellectual associates Moses Mendelssohn (1729-1786) and Gotthold Ephraim Lessing (1729-1781), and the Swiss theologian Johann Kaspar Lavater (1741-1801), taking place at the Mendelssohn residence in Berlin. The intellectual friendship between Lessing and Mendelssohn, as well as the public dispute between Mendelssohn and Lavater, are vividly evoked in this work through a host of visual connections to history, literature, and Jewish culture.

Click on the image above to open a slideshow of exhibition images
From Mendelssohn To Mendelssohn reawakens the original setting of the painting and the history of the Mendelssohn family, including the lives and works of Moses Mendelssohn's grandchildren, composers Fanny (1805-1847) and Felix (1809-1847), by activating the extensive holdings of German-Jewish ritual art, prints, rare volumes, manuscripts, and material culture. The installation, aimed at creating a renewed imagined space of intercultural dialog animated by the presence of a historic piano (Wieck, Dresden, ca. 1860) from UC Berkeley's musical instrument collection, is the new setting of a salon-like space of intellectual and artistic gathering.

Click on the image above to view exhibition installation images
---
From Mendelssohn To Mendels… by magnesmuseum
From Mendelssohn To Mendels… by magnesmuseum
Curator:
Francesco Spagnolo
Undergraduate Curatorial Apprentice:
Lauren Cooper
Contributing Scholars:
Anthony J. Cascardi (Dean of Arts and Humanities), Thomas Laqueur (History), John Efron (History), Nicholas Mathew (Music)
Registrar:
Julie Franklin
Exhibition Design:
Gordon Chun Design
Major support for The Magnes comes from the Helzel Family Foundation, the Magnes Museum Foundation, The Magnes Leadership Circle, and The Office of the Chancellor at the University of California, Berkeley.