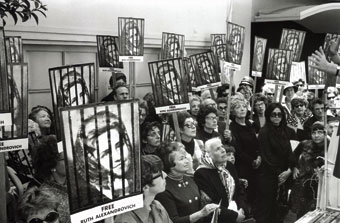 PAST EXHIBITION
If Not Now, When? 150 Years of California Jewish Activism
If Not Now, When? 150 Years of California Jewish Activism, an exhibition created in conjunction with The Bancroft Library, University of California, Berkeley, opened on February 12, 2006 at the Judah L. Magnes Museum
Comprised of over 80 photographs, documents, and objects drawn both from the Western Jewish History Center of the Magnes and those on loan from The Bancroft Library at the University of California, Berkeley, If Not Now, When? tells the story of how generations of California Jews engaged in activism and how they forged new Jewish identities through reinterpretation of tradition.
Since their arrival in the 1850s, California Jews have been involved in local politics and international events. From being Suffragette leaders in the early part of the last century to heading up the Free Speech Movement that was launched on the University of California Berkeley campus in the 60's, Jews have played a critical role in the distinctive activism that characterizes the Bay Area.
The role of women is significant. Senators Boxer and Feinstein today represent important voices in the Senate. The first Jewish Congresswoman, Florence Prag Kahn of San Francisco, was also the first woman appointed to the Committee on Military Affairs. Kahn co-authored legislation that obtained federal support for the building of the Oakland-Bay Bridge. And the famous revolutionary Emma Goldman literally 'served her time' in the Bay Area. The University of California has the most comprehensive archive of Goldman's lifework, with representative examples in the exhibition.
Vanguard demonstrations to liberate Soviet Jewry in the 1970's were a rally cry for the Jewish community around the greater Bay Area, drawing national and international attention. The successful result of the protestations being that the greater San Francisco Bay Area is now home to one of the largest concentration of Russian Jews in the nation. If Not Know, When? is the first exhibition of its sort to place this historical movement within the broader context of activism in the Bay Area. The exhibition closes with the founding of the Magnes itself in the early sixties, as a natural outgrowth of the grassroots movements that were taking hold.
If Not Now, When? is guest curated by Ava Kahn, PhD, a historian of American Jewish life. Her books include Jewish Voices of the California Gold Rush: A Documentary History 1849-1880, Jewish Life in the American West, and California Jews, co-edited with Marc Dollinger. Currently Kahn is working on a co-authored book titled Jews of the Pacific West: The Growth of a Regional Community, 1849-1900 to be published by the University of Washington Press in 2007.
Support for If Not Now, When? has been provided by Julie Chaiken and Scott Grigsby, in the name of The Don and Carole Chaiken Foundation; the Herbst Foundation; the Jewish Community Federation of the Greater East Bay; and Sinai Memorial Chapel/Chevra Kedisha.