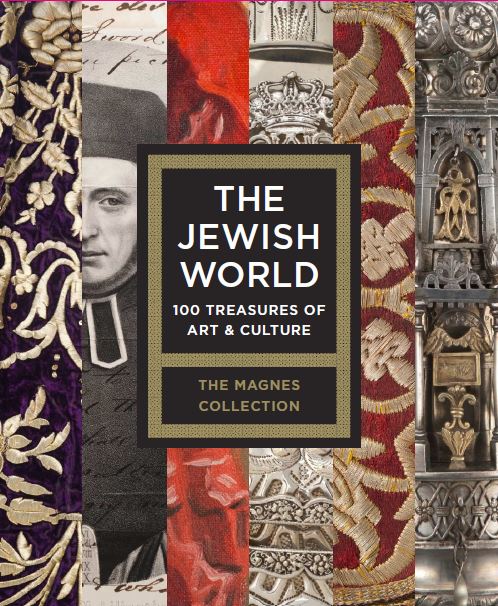 PAST EXHIBITION
The Jewish World | A Book Installation
On View:
Aug 28, 2014 - May 5, 2017
Location:
The Magnes Collection of Jewish Art and Life
2121 Allston Way | Berkeley , CA
The Magnes
Gallery Hours:
Tuesday-Friday, 11am-4pm
The Jewish World: 100 Treasures of Art and Culture, which is being published by Skirà-Rizzoli in the Fall of 2014, is the first comprehensive catalog featuring the holdings of The Magnes Collection of Jewish Art and Life.
With art and material culture hailing from India, Spain, Yemen, Germany, Tunisia, Turkey, Morocco, China, Russia, the United States, and other regions where Jews once lived or continue to live, The Jewish World gives insights into the richness and variety of Jewish cultures.
Select pages from this lavishly illustrated volume animate an installation in the Auditorium of The Magnes.
---
Explore a digital companion to The Jewish World created on Findery by Lauren Cooper within the Undergraduate Research Apprentice Program (URAP) of the University of California, Berkeley, directed at The Magnes by Francesco Spagnolo.
Texts:
Alla Efimova and Francesco Spagnolo
Design:
Kit Hinrichs and An Luc, Studio Hinrichs
Photographs:
Sibila Savage
Editors:
Ellen R. Cohen (Rizzoli) and Sue Heinemann (The Magnes)
Collection Registrars:
Julie Franklin and Miriam Lang
Major support for The Magnes comes from the Hellman Family Foundation, Koret Foundation, Magnes Museum Foundation, and Taube Philanthropies. Additional support for this publication was provided by the David Berg Foundation, Gilbert Foundation, David L. Klein Jr. Foundation, Koret Foundation, and Friends of the Magnes Fund.