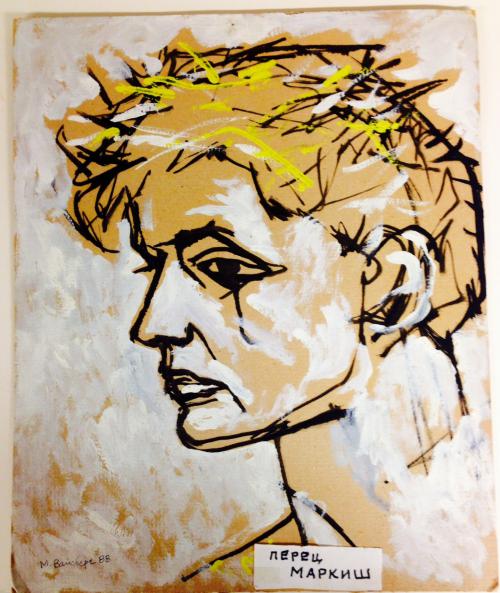 PAST EXHIBITION
Literary Minds. Soviet Jewish Writers portrayed by Matvey Vaisberg
On View:
Aug 28, 2014 - Dec 19, 2014
Location:
The Magnes Collection of Jewish Art and Life
2121 Allston Way | Berkeley , CA
The Magnes
Gallery Hours:
Tuesday-Friday, 11am-4pm
In 2014, The Magnes acquired twelve works by the New York Times-featured Ukrainian artist, Matvey Vaisberg, including the portraits of eight Russian Jewish authors.
Several of the authors portrayed by Vaisberg were Yiddish writers murdered by the Soviet regime on August 12, 1952: Itzik Feffer (1900-1952), Leib Kvitko (1890-1952), Peretz Markish (1895-1952), and David Hofstein (1889-1952). Other portraits include prominent writers such as Sh. Aleichem (1859-1916), O. Mandelstam (1891-1938), B. Pasternak (1890-1960), and J. Brodsky (1940-1996).
These unusual works, painted on cardboard in the late 1980s, and based on archival photographic sources, reclaimed a suppressed cultural heritage on the eve of the fall of the Soviet Union.
Matvey Vaisberg, the grandson of the Yiddish author, Motl D. Gartsman (1909 – 1943), was born in 1958, and lives and works in Kiev, Ukraine.
The exhibition also includes biographical profiles of the authors, and poignant literary excerpts.
– Francesco Spagnolo and Eli Rosenblatt
Literary Minds: Soviet Jewi… by magnesmuseum
Curators:
Dr. Francesco Spagnolo with Eli Rosenblatt (PhD Candidate, Jewish Studies; Magnes Graduate Fellow 2013-2014)
Research:
Dr. Rebecca Goldbert and Anna Bella Korbatov
Registrar:
Julie Franklin
Design:
Gordon Chun Design