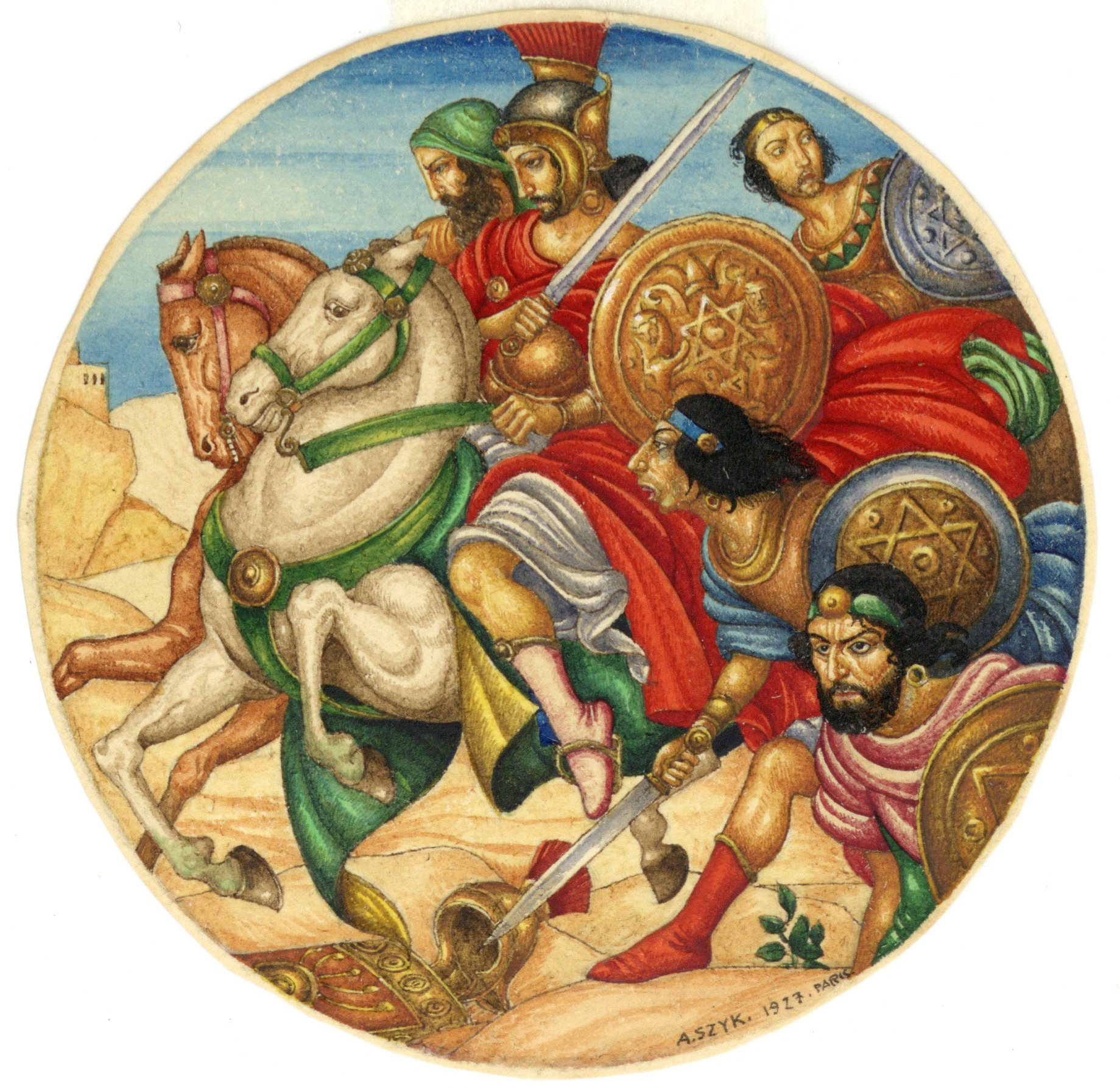 PAST EXHIBITION
Pièces de Résistance: Echoes of Judaea Capta From Ancient Coins to Modern Art
Case Study 9
On View:
Aug 28, 2018 - Jun 28, 2019
Location:
The Magnes Collection of Jewish Art and Life
2121 Allston Way | Berkeley , CA
The Magnes
Gallery Hours:
Tuesday-Friday 11am-4pm
Notions of resistance, alongside fears and realities of oppression, resound throughout Jewish history. As a minority, Jews express their political aspirations, ideals of heroism, and yearnings of retaliation and redemption in their rituals, art, and everyday life.
Centering on coins in The Magnes Collection, this exhibition explores how the Jewish revolts against Hellenism and the Roman occupation of Palestine (Judaea Capta) echo from antiquity into the present.
Pièces de Résistance highlights a variety of collection items ranging from ancient coins and their replicas, to ritual objects for Purim and Hanukkah. It also prominently features art by Marc Chagall, Lazar Krestin, and Arthur Szyk that offer a modern visual representation of Jewish might in the face of persecution.

click above to view exhibition images
Pièces de Résistance: Echoe… by magnesmuseum
Curators:
Francesco Spagnolo, Shir Gal Kochavi, Zoe Lewin
Graduate Curator (Judaea Capta materials):
Rebecca Levitan (History of Art)
Contributor:
Yael Chaver (German and Jewish Studies)
Registrars:
Julie Franklin and Rebecca Hisiger
Preparator:
Ernest Jolly
Marketing and Publicity:
Lisa Davis
Design:
Gordon Chun Design
Press Release Printed Catalog Web Resources External Links
Major funding ($100,000+) for The Magnes Collection comes from Karen and Franklin Dabby, the Walter & Elise Haas Fund, the Helzel Family Foundation, the Koret Foundation, Peachy and Mark (Z'l) Levy, Magnes Leadership Circle, Magnes Museum Foundation, the Office of the Chancellor at the University of California, Berkeley, Barbro and Bernard Osher, and Taube Philanthropies.
Support for this exhibition was provided by the Koret Foundation.
Research for this project was made possible in part by funds and resources provided by the Undergraduate Research Apprentice Program (URAP) and by Digital Humanities at the University of California, Berkeley.