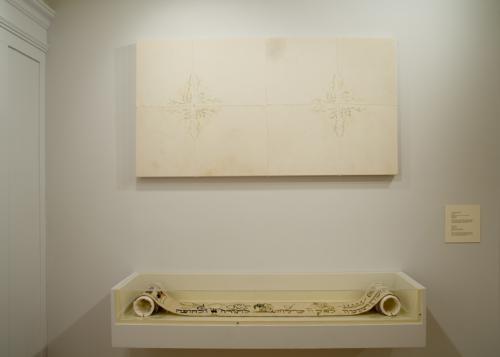 PAST EXHIBITION
REVISIONS Amy Berk: Recoverings
San Francisco-based artist Amy Berk uses Jewish ceremonial textiles in the Magnes collection as inspiration for an installation of reappropriated, hand-sewn wall pieces that reflect her interest in feminism, Minimalism, and Jewish visual culture. Recoverings opened on February 5, 2007.
For her own work, Berk rearranged, hand-sewed, and stretched tablecloths and napkins that she inherited from her grandmother to create subtle "canvases." The shimmer, texture, and newly formed patterns transform the simple textiles into the subject of aesthetic reflection. Starting as utilitarian, horizontally-oriented objects, they now assume the upright, vertical position on the museum wall.
Included in the exhibition is a festival Kiddush cloth dated 1775 and a wimple, both from the Magnes collection. The beautifully embroidered festival cloth may have been part of a bride's trousseau. The wine and food stains suggest that the piece was made as a tablecloth, although it may also have been used as a wall decoration.
The real effect of the "canvases" and the pieces from the Magnes collection lies in the persistence of the stain. The stains are the connection between the domestic world and the world of the artist. Amy Berk's Recoverings come from the tradition where art-making and living are inseparable.
Amy Berk was born in Brooklyn in 1967. She received her M.F.A. from the San Francisco Art Institute in 1995 and her B.A. from Wesleyan University in 1989. Her work, an Arte povera blend of minimalism and pop addressing issues of the natural vs. the synthetic, the organic and the sublime has been exhibited at many venues in the Bay Area and beyond including Museum of Folk and Craft Art, Southern Exposure, the Oakland Museum, and Traywick Gallery. She has written art reviews for Art in America, Art Issues, SPEAK and Artweek, among others, and is co-founder and editorial team member of the on-line magazine stretcher.
David Lawrence has produced a short video portrait of artist Amy Berk and her artwork for Recoverings. The documentary features interviews with the Berk and examines the background, process, and inspiration for her new body of work as it follows her in the art making process. Interviews with Alla Efimova, chief curator, frame the work in the larger context of the Magnes and the REVISIONS series. The 10 minute video will loop in the lobby and be available online.
Web Resources
National Endowment for the Arts