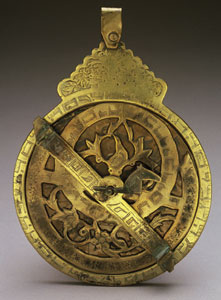 PAST EXHIBITION
Sephardic Horizons
During centuries of spiritual, intellectual, and material flowering on the Iberian Peninsula—Sepharad in Hebrew—Jews coexisted creatively with surrounding Christian and Muslim cultures. This fertile interaction is reflected in Sephardic contributions to philosophy, science, poetry, and religious law and literature, and finds visual expression in the forms and patterns of Sephardic art.
After their expulsion from Spain in 1492 and from Portugal in 1496–97, Iberian Jews fled south and east to the lands of the Ottoman Empire, then north to Italy and Amsterdam, and by the 17th century to the New World. Throughout the long years and broad expanse of their dispersion, they continued to cherish the music, art, and language of Sepharad. This rich cultural heritage is evident in the art and artifacts drawn from the Magnes collection and displayed in Sephardic Horizons.
Objects on view range from a 14th century Hanukkah lamp influenced by Islamic as well as western European architecture to contemporary photographs by Montreal photographer D. R. Cowles that evoke the vanishing beauty of Jewish life in Morocco and Egypt. Other graphic works include an early 18th century print by Bernard Picart depicting the dedication of the Portuguese synagogue in Amsterdam c.1730 that is part of a series by Picart documenting the practices of Sephardic Jews in Holland. From the turn of the 20th century there is a sampler embroidered by a young Sephardic girl living in a waning Dutch community in Paramaribo, the capital city of Surinam. Additionally, there are costumes, jewelry, books, and Jewish ritual objects from Italy, Egypt and other countries in North Africa.
Art and artifacts together with books and manuscripts on view eloquently attest to enduring themes in Sephardic history: the importance of public service as well as community; secular as well as religious knowledge; and preserving tradition while absorbing new influences. Perhaps the most important legacy bequeathed by Jews of Sepharad to Jewish and world culture is the idea that a true Golden Age is one shaped by convivencia, and the abundant gifts of this coexistence.
Sephardic Horizons is curated by Elayne Grossbard, Judaica Curator, and Alla Efimova, PhD., Chief Curator. The exhibition is made possible through a generous grant from The Koshland Foundation and individual donors to the museum.
The San Francisco Foundation, Koshland Program