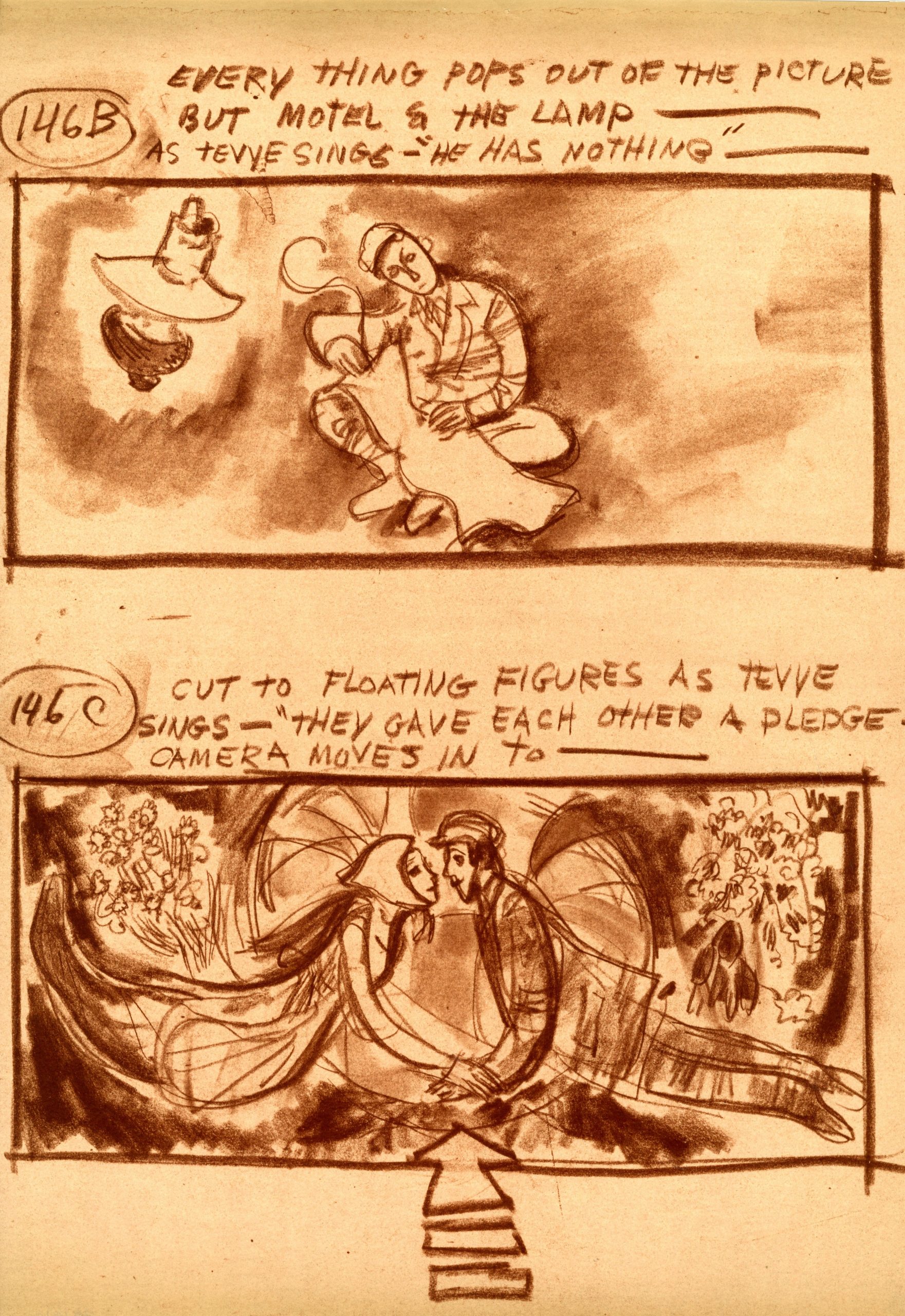 PAST EXHIBITION
Sketching "Fiddler": Set Designs by Mentor Huebner
On View:
Aug 29, 2017 - Dec 15, 2017
Location:
The Magnes Collection of Jewish Art and Life
2121 Allston Way | Berkeley , CA
The Magnes
Gallery Hours:
Every week, Tuesday-Friday, 11am-4pm, during the UC Berkeley Fall and Spring Semesters.
The holdings of The Magnes include a set of original and working copies of sketches and storyboard drawings created by Mentor Huebner for the 1971 feature film, Fiddler on the Roof, along with a small selection of set photographs. The film, directed by Norman Jewison, starred Chaim Topol in the title role, and was based on the stories by Sholem Aleichem (born Shalom Rabinovitz, 1859–1916), a founder of modern Yiddish literature. The dialogue, song lyrics, musical arrangements, and set and costume designs of the production helped define the relationship between a new, post-war, generation of American Jews with their own history of migration, and with the traditions of the past, as they had been preserved in Eastern Europe. Mentor Huebner (Los Angeles 1917–Burbank 2001), a leading Hollywood illustrator, worked in both credited and uncredited roles on the design of more than 250 films. For Fiddler, Huebner created set design concepts and storyboard illustrations. The exhibition leverages Huebner's sketches to explore the making of the 1971 film, in its attempts to visualize Sholem Aleichem's fictional eastern european village (or shtetl), Anatevka, its roads, buildings—including its prominent wooden synagogue—and Chagall-inspired costumes.
Sketching" Fiddler": Set Designs by Mentor Huebner by magnesmuseum on Scribd
Curator:
Francesco Spagnolo
Curatorial assistant:
Zoe Lewin
Registrars:
Julie Franklin and Rebecca Hisiger
Preparator:
Ernest Jolly
Marketing and Social Media:
Lisa Davis
Design:
Gordon Chun Design, Casey Knudsen and Andrew Stacklin
Major funding ($100,000+) for The Magnes Collection comes from Karen and Franklin Dabby, the Walter & Elise Haas Fund, the Helzel Family Foundation, the Koret Foundation, Peachy and Mark (Z'l) Levy, Magnes Leadership Circle, Magnes Museum Foundation, the Office of the Chancellor at the University of California, Berkeley, Barbro and Bernard Osher, and Taube Philanthropies.