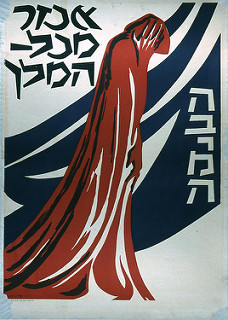 PAST EXHIBITION
Stages of Identity
Theater Posters from The Magnes Collection (1903-1994)
On View:
Jan 26, 2016 - Jun 24, 2016
Location:
The Magnes Collection of Jewish Art and Life
2121 Allston Way | Berkeley , CA
The Magnes
Gallery Hours:
Every week, Tuesday-Friday, 11am-4pm, during the UC Berkeley Fall and Spring Semesters.
Among the most important components of The Magnes' pictorial holdings is a collection of nearly one thousand posters acquired worldwide since the 1960s. This diverse and fascinating group of works has been acquired via a broad network of paper and print collectors, purchased in museum stores, or simply taken off walls in the streets of cities around the world. Collectively, these materials represent an invaluable source of historical information. Their scope encompasses daily life, politics, advertising, communal events, culture and the arts in the United States, Europe, and Israel across the 20th century.
This exhibition brings together a group of posters that showcase a variety of theatrical and other cultural events centering on Jewish themes, presented over the past one hundred years in various venues and contexts. The announcements were written in Yiddish, Hebrew, Polish, German, English, French, and Bosnian. The productions touched on a wide range of topics, from tales and parables drawn from the Hebrew Bible and Jewish folklore, to cultural identity, history and politics.

Felice Pazner Malkin (b. 1929) Cruelest of All—The King. Habimah (Israel, 1953), 75.236
In terms of visual style, these posters could not be more diverse, ranging from traditional and folk motifs to modernism. This broad swing in styles also parallels to some extent the significant shifts in 20th-century theatrical culture. Through a distancing gesture that separates them from early-modern theater, contemporary productions often feature Jews and Jewish themes as integral to culture and society, rather than as stylized — and often culturally stereotyped — "characters." Contemporary Jewish playwrights, actors, directors, and producers appearing in modern theater posters are thus mentioned by name and celebrated in their roles, as the sole protagonists of a narrative that sees them voicing a globally recognized Jewish cultural identity firmly placed at center stage.
Francesco Spagnolo, Curator
Lauren Cooper, Curatorial Apprentice
---
External Links
Major support for The Magnes comes from the Helzel Family Foundation, the Magnes Museum Foundation, The Magnes Leadership Circle, and The Office of the Chancellor at the University of California, Berkeley.