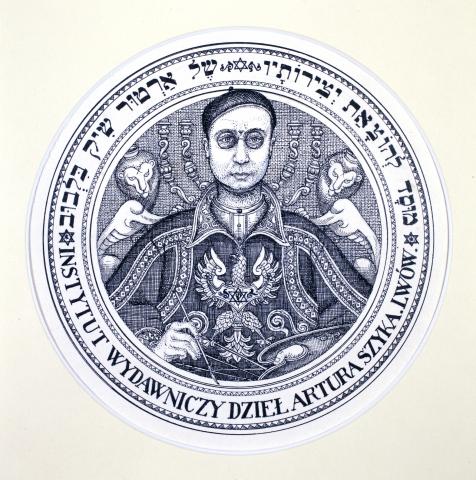 PAST EXHIBITION
The Worlds of Arthur Szyk | The Taube Family Arthur Szyk Collection
On View:
Aug 28, 2018 - Jun 28, 2019
Location:
The Magnes Collection of Jewish Life and Art
2121 Allston Way | Berkeley , CA
The Magnes
Gallery Hours:
Every week, Tuesday-Friday, 11am-4pm, during the UC Berkeley Fall and Spring Semesters.
Acquired by The Magnes Collection of Jewish Art and Life in 2017 thanks to an unprecedented gift from Taube Philanthropies, the most significant collection of works by Arthur Szyk (Łódź, Poland, 1894 – New Canaan, Connecticut, 1951) is now available to the world in a public institution for the first time as the Taube Family Arthur Szyk Collection.
Born into a middle-class Polish Jewish family, Szyk lived a life framed by two world wars and the rise of totalitarianism in Europe. A refugee, he ultimately settled in the United States in 1940. Much of his work centered on these experiences. As a miniature artist and political caricaturist, he used motifs drawn from the Bible, history, politics, and culture to pair extraordinary craftsmanship with searing commentary on a diverse range of subjects including Judaism, the American War of Independence, the Second World War, the Holocaust, and the founding of the State of Israel.
The hundreds of artworks, sketches, and painstakingly assembled illustrated books, journals, archival documents, photographs, exhibition catalogs, and memorabilia that comprise this multi-faceted collection are in the process of being examined and catalogued so that they can be made available for research, exhibition, loan, and publication. The current display of high-resolution images of select collection items in the Auditorium of The Magnes presents the public with an unprecedented insight into the many worlds of Arthur Szyk.
~Francesco Spagnolo, Curator
---
The Worlds of Arhur Szyk | Spring 2017 (Exhibition Design Materials) by magnesmuseum on Scribd
Major funding ($100,000+) for The Magnes Collection comes from Karen and Franklin Dabby, the Walter & Elise Haas Fund, the Helzel Family Foundation, the Koret Foundation,  Peachy and Mark (Z'l) Levy, Magnes Leadership Circle, Magnes Museum Foundation, the Office of the Chancellor at the University of California, Berkeley, Barbro and Bernard Osher, and Taube Philanthropies.